December 13, 2018
Effective January 1st, 2019, TELUS AdjudiCare (previously known as Symbility or AUTOBEN) will begin to use the carrier ID 000034 to process claims for their clients. Plan members of TELUS AdjudiCare clients will receive a benefits card like the example shown below.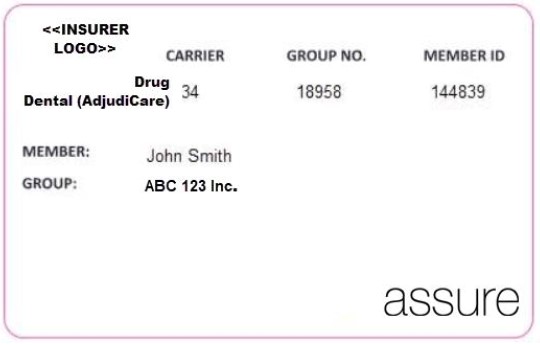 TELUS AdjudiCare will transfer a portion of their client plan members to the new carrier ID 000034. These plan members will receive a new benefits card. All other clients will remain on the existing carrier ID 628151.
To ensure claims are transmitted to the correct carrier ID, please remember to verify the plan members benefit card for any updated information.
Action required
The new TELUS AdjudiCare carrier ID 000034 will need to be configured and available in your practice management software before January 1, 2019. The following transactions will be available for processing:
Claim (01)
COB Claim (07)
Claim Acknowledgement (11)
Claim Explanation of Benefits (EOB) (21)
Claim Reversal (02)
Claim Reversal Response (12)
Predetermination (03)
Predetermination Acknowledgement (13)
Predetermination EOB (23)
Eligibility (08)
Eligibility Response (18)
For claim enquiries, please call the toll-free number on the back of the plan member benefits card.
Assigned benefits for claims processed by TELUS AdjudiCare will be reimbursed with a cheque payment from TELUS Health.
Questions? We're here to help…
If you have any questions about the setup of this new dental carrier ID, please call the TELUS Health Benefit Management Helpdesk at 1-866-272-2204. Hours of operation are Monday to Friday 8:00 am to midnight, and Saturday and Sunday from 9:00 am to 8:00 pm, ET.