November 16, 2018
Verify the carrier ID number on the patient's benefit card to avoid inaccurate claim submissions.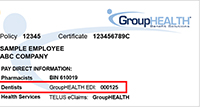 GroupHEALTH uses two carrier IDs to process claims.
ClaimSecure Carrier ID – 610099
GroupHEALTH Carrier ID - 000125
Check to ensure that GroupHEALTH's carrier ID 000125 is available in your practice management software.
If you require assistance configuring this information, please contact your vendor.
Read GroupHEALTH's full communication here.