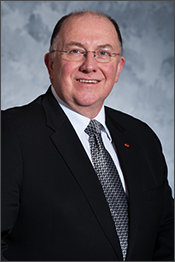 One of the Canadian Dental Association's (CDA) most historically significant and vital relationships is our close connection to the Royal Canadian Dental Corps (RCDC). For over 100 years, the two groups have worked closely together towards the shared goal of promoting optimal oral health to Canadians. These strong ties endure today as we continue to collaborate on many fronts, with our most recent cooperative initiative in Afghanistan as an example of what we can accomplish together.
The Canadian Dental Association and its members across Canada are extremely proud of the achievements of the Corps over the past century. My colleagues and I at the CDA congratulate the RCDC on its centennial and express our gratitude to its men and women in uniform for the sacrifices they make and the risks they take on our behalf, and to both the military and civilian members of the RCDC for their professionalism and dedication to the oral health of Canada's soldiers, sailors, airmen and airwomen.
We wish the Royal Canadian Dental Corps the utmost success in fulfilling its motto of Sanitas in Ore.
Sincerely,
Gary MacDonald, DDS
President