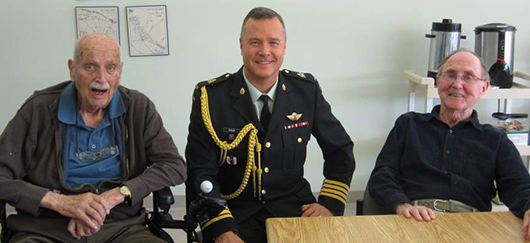 The Camp Hill Veterans Hospital in Halifax is currently home to two retired RCDC members: Sergeant-Major (ret'd) Stan MacLean and Major (ret'd) Allison "Lew" Kelland. Col Taylor was made aware of this by our Reserve Dental Officer in Halifax, Capt Andrew Kim. Our Regimental Major (Maj Gingras) then coordinated a visit in February, through Camp Hill Recreation Therapy Associate Mr Cory Stone, who is also a soldier in the Princess Louise's Fusiliers. Col Taylor very much enjoyed the opportunity to visit with these gentlemen who, as it turned out, had both worked with Col Taylor's father during their respective careers.
S-M (ret'd) MacLean was a Dental Hygienist with the RCDC for many years, and had the opportunity to serve all around the world. He trained at Camp Borden and then served in the Korean War. Maj (ret'd) Kelland served as an infantry training officer during WWII, and later transferred to the RCDC after obtaining his DDS at Dalhousie University in the early 1950's. His RCDC career brought him to many bases across Canada and Europe.
Both Veterans shared many fond memories from their many years in the Dental Corps. Col Taylor presented each of these gentlemen with a Dental Corps coin, and thanked them for their service.