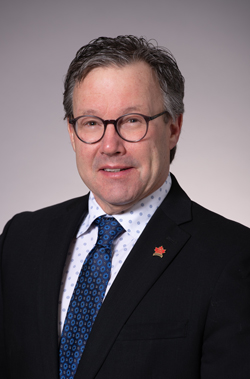 Dr. Richard Holden, President
The Canadian Dental Association (CDA) is pleased to announce the appointment of Dr. Richard Holden as the CDA President for 2021-2022. Dr. Holden graduated in 1989 from the Faculty of Dentistry at Dalhousie University. Prior to that, he earned a Bachelor of Science from University of Prince Edward Island.
Dr. Holden was first appointed to the CDA Board of Directors in 2013. He has been involved in organized dentistry for numerous years and has served as President of the Dental Association of PEI in 2001. Dr. Holden lives in Stanley Bridge with his wife, Dr. Joanne Stewart. They have three adult children, Lauren (Jason), Jordan and Charlee, as well as their dog, Macee. He enjoys golfing, skiing, boating and spending time with his family.
As CDA President, Dr. Holden will lead the organization in its mandate as the national voice for dentistry, dedicated to the advancement and leadership of a unified profession and to the promotion of optimal oral health, as essential component of general health.