Every year, CDA and interested stakeholders lobby at the national level to ensure that federal tax initiatives and programs have a favourable impact on your practice and the profession of dentistry. We know that making oral health care affordable and accessible to all Canadians is good news for your patients and our profession.
CDA works to represent the interests of the dental profession and to keep oral health issues high on the federal government's agenda. We work with the cabinet ministers, critics, parliamentary secretaries and committee members who influence decision-making within the federal government to ensure that they recognize oral health as a significant public health issue, and to educate them on key issues that affect dentistry in Canada.
Political Leaders Hear Dentistry's Message at 2011 Days on the Hill Meetings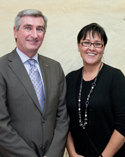 Dr. Robert MacGregor, CDA president with Minister of Health Leona Aglukkaq.
Meetings with the prime minister, minister of health and 2 prominent members of Parliament (MPs) were highlights of CDA's 2011 Days on the Hill, held on October 19 and 20.
CDA president Dr. Robert MacGregor led the CDA delegation of elected officers, committee members and CDA staff to bring oral health issues to the attention of senior government officials on Parliament Hill. Access to care, dental education and research, tobacco control, and First Nations and Inuit oral health were some of the issues topping the agenda in more than 30 meetings held this year with parliamentarians.
On the first day of meetings, Dr. MacGregor was able to speak directly with Prime Minister Stephen Harper about the state of oral care in Canada. The CDA delegation then raised concerns with Minister of Health Leona Aglukkaq over Health Canada's decreased funding for the federal tobacco control strategy (FCTS). Originally conceived as a 10-year program with an annual budget of over $100 million, the FCTS has been reduced to less than $43 million per year and the program is set to expire in March 2012. CDA representatives called for support of a renewed FCTS at no less than current funding levels.
Dr. Paul Allison, dean of McGill University's faculty of dentistry, was invited to attend the meetings focusing on dental education and research on behalf of the Association of Canadian Faculties of Dentistry. Dr. Allison encouraged government officials to continue funding the Canadian Institutes of Health Research, to reflect the vital role of research in Canada and its contribution to the strength of Canada's 10 dental schools.
In other meetings, CDA delegates spoke with Thomas Mulcair, NDP MP for Outremont (Quebec) and a candidate in the upcoming NDP leadership election. Bob Rae, Liberal MP for Toronto-Centre, also took time to meet with CDA officials.
Another highlight occurred when Dr. MacGregor was formally acknowledged in a Members Statement delivered in the House of Commons by his local MP, Scott Brison of Kings-Hants (Nova Scotia). Dr. MacGregor was recognized for his leadership in his local community and at the national level.
The annual Dental Dinner was once again a success, bringing together MPs with a direct or family connection to the dental profession. The evening allows the CDA delegation to reinforce its relationships with these MPs and ensure that they are familiar with oral health issues.

Members of CDA's 2011 Days on the Hill delegation. Back row, from left: Jon Holtzee, director, state government affairs, American Dental Association; Dr. Paul Allison, dean, McGill University faculty of dentistry; Dr. Heather Torrie, CDA Advocacy Committee; Dr. Peter Neilson, CDA Advocacy Committee; Dr. Phil Poon, chair, CDA Advocacy Committee; Dr. Thomas Raddall, III, CDA Advocacy Committee; Dr. Louis Dubé, CDA Advocacy Committee. Front row, from left: Andrew Jones, CDA director of public affairs; Claude Paul Boivin, CDA executive director; Dr. Robert Sutherland, CDA president-elect; Dr. Robert MacGregor, CDA president; Dr. Peter Doig, CDA vice-president.
Photos: Teckles Photo Inc.