CDA offers a wide range of information and clinical support services to members.
LEXI-COMP® Online™, CDA Edition
This exclusive member service features a suite of clinical information databases designed to keep modern practitioners informed about prescription and over-the-counter (OTC) medications.
Lexi-Comp uses experienced dentists, pharmacists and other clinicians to serve as authors, editors and reviewers of its drug information content. Two Lexi-Comp databases are available via the members' side of the CDA website:
Lexi-Drugs Online™ offers clinical information on over 1,600 drug monographs covering more than 8,000 brand-name medications.
Lexi-Natural Products™ features clinical information on commonly used natural products and their potential interactions with prescription and OTC medications.
Other value-added features include education materials tailored to adult and pediatric patients. These customizable patient advisory leaflets, known as Lexi-PALS™ and Pedi-PALS™, provide clear and concise statements about treatments and medications, available in 18 languages.
™LEXI-COMP Online, CDA Edition, Lexi-Drugs Online, Lexi-Natural Products, Lexi-PALS and Pedi-PALS are all registered trademarks of Lexi-Comp, Inc.
CDA Publications
CDA publications connect members to news and information about Association initiatives. They are a reliable source of information about developments affecting the profession. These publications also provide members with first-class clinical resources.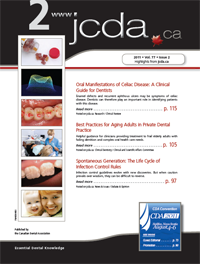 Journal of the Canadian Dental Association (JCDA)
Canada's only peer-reviewed dental journal, the Journal of the Canadian Dental Association (JCDA) is CDA's clinical and research publication.
Published 6 times a year, JCDA maintains a unique body of knowledge and relays the latest developments in the profession and organized dentistry.
JCDA employs a complementary print and electronic publishing strategy to provide essential knowledge to Canadian dentists and their colleagues worldwide.
JCDA the print magazine contains a lively mix of clinical articles, information about issues facing the dental profession, summaries of research papers and news about matters pertinent to dentists. It is mailed to all dentists and dental students in Canada as well as subscribers outside the country.
The new JCDA.ca, an open access publication, houses scientific and clinical articles that contribute to the literature, as well as user-friendly presentations of clinical material and news pertinent to the profession.