CDA presented some its latest awards during ceremonies held in Ottawa in April 2013.
Honorary Membership
CDA's Honorary Membership Award is given to an individual who has made an outstanding contribution to the dental profession, the dental community or the oral health of Canadians over a sustained period of time at the academic, corporate, specialty society, council, commission or committee level. This year, CDA Honorary Membership was presented to Mr. Don Pamenter of Halifax.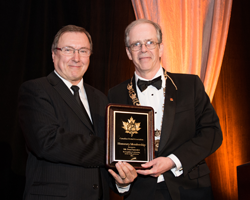 For the past 33 years, Mr. Don Pamenter served as the executive director of the Nova Scotia Dental Association. He was also actively involved with CDA, serving on numerous committees over this period of time. Mr. Pamenter was known as a consensus builder and his leadership skills helped shape organized dentistry at both the provincial and national level. Mr. Pamenter has the uncanny ability to make sense out of complex and emotional discussions, and is able to help find solutions that are in the best interests of the profession and the public.
"Receiving this Honorary Membership is a humbling experience. I reviewed the roster of past recipients recently and this list reads like the all-star team of dentistry's history," he remarked. "They include pillars of the dental community, builders of the profession; the givers, not the takers."
"I have known many of them and I looked up to and respected them. To be included with them is in my view unimaginable. I thank the CDA from the bottom of my heart," said Mr. Pamenter in his acceptance speech.
Distinguished Service Award
CDA's Distinguished Service Award recognizes individuals who have made an outstanding contribution to the profession in a given year or over a number of years. This year, 3 recipients received the award: Dr. Colin Dawes of Winnipeg, Dr. Saida Rasul of Vancouver and Dr. Jocelyn Pearce (posthumously).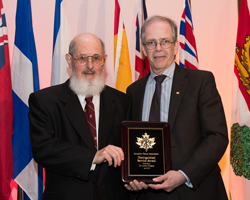 During his illustrious 55-year career, Dr. Colin Dawes revolutionized salivary research and made significant breakthroughs in oral health. His research focused on the relationship of saliva and dental plaque to caries, dental calculus, enamel erosion and periodontal disease, and many of his studies were the first in their field. His work has considerably added to the profession's understanding of oral disease and has influenced how it is treated. Dr. Dawes, an internationally recognized scholar, has published over 220 articles, given more than 215 invited lectures in 27 different countries, and is a past editor for the Journal of Dental Research.
"It is certainly a great honour to receive an award of this nature and I am most grateful that the profession has chosen to recognize an academic researcher such as myself in this way," said Dr. Dawes.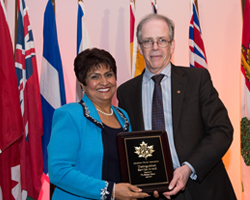 Dr. Saida Rasul has tirelessly dedicated herself and her career to serving the profession and her community. She has taught oral hygiene and nutrition in Pakistan, trained health visitors in Karachi, and volunteered in Kenya and Afghanistan. Dr. Rasul is a steadfast advocate for education, empowerment and volunteerism, serving with several organizations including the United Way, Outward Bound, Grace Hospital and BC Children's Hospital Foundation.
"It is with humility I accept this award and dedicate it to all the volunteers and institutions around the world who are helping us to set up clinics and programs, and I thank them for the continued support in this endeavour."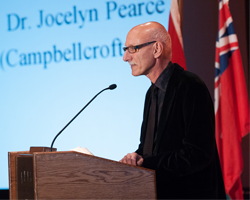 Dr. Jocelyn Pearce was a caring and dedicated dentist who made a sustained and significant contribution to the profession for more than 20 years. She served on several CDA committees and was instrumental in creating programs and services for new dentists. She served as a member of the Ontario Dental Association (ODA) Board of Directors and as ODA president in 2005-06. Dr. Pearce had an incredible ability to work with people, to bring out the best in them, and to inspire them by leading by example. She passed away in August 2011.
Dr. Steven Levinson accepted the award and provided a touching tribute to his late wife. "She was a wonderous conglomeration of style, sophistication, intelligence, humour and joy," he recalled. "Jocelyn would have been thrilled and humbled to receive this prestigious award. But most of all, she would have been so very proud that she was remembered."
Oral Health Promotion Award
CDA's Oral Health Promotion Award recognizes individuals or organizations who have improved the oral health of Canadians through oral health promotion. This may involve creating public health policy or supportive environments, strengthening community action, developing personal skills and increasing the prevention of oral diseases and disorders. The 2 recipients were: Correctional Service of Canada and the Siloam Mission's Saul Sair Health Centre.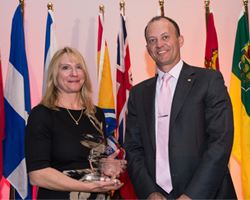 Correctional Service of Canada (CSC) recently added oral health to its Choosing Health in Prison program, providing inmates with preventive dental education and materials. Additionally, CSC has created a monthly health-promotion newsletter for which oral health is one of the core themes, and is accompanied by posters and pamphlets. The benefits of the program are significant in that there is now an awareness of the importance of oral health care among the prison population, and contract dentists who visit correctional institutions can focus on reinforcing a message that has already been received.
"We recognize the important role that oral health plays in overall health. We work hard to ensure that offenders have the information and tools they require to maintain good oral health and prevent oral disease," said Ms. Michele Brenning, assistant commissioner, health services sector at CSC.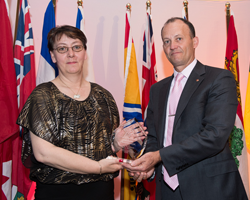 The Siloam Mission's Saul Sair Health Centre provides free-of-charge, holistic health care in Winnipeg's inner city, serving the chronically addicted, those with mental disease, street workers, the homeless and the working poor. Dentists, dental hygienists and dental assistants volunteer their time to provide basic dental services and emergency care. No one is refused treatment. Services are provided with dignity and without discrimination of race, gender or religion.
"Our volunteers consistently raise the bar when it comes to providing dignity and respect to the people we serve. And they inspire us to remember that homeless does not mean hopeless," said Ms. Angelika Fletcher, manager of the health centre.
Special Friend of Canadian Dentistry Award
CDA's Special Friend of Canadian Dentistry Award is conferred on an individual or organization outside of the dental profession in appreciation for exemplary support or service to Canadian dentistry and/or the profession as a whole. This award was presented to Mr. Lyle Best, CM, of Edmonton.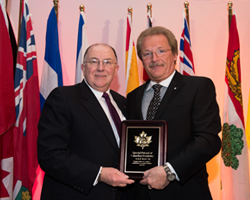 Mr. Lyle Best has spent over 30 years in the employee and group benefits insurance industry. He has been chair of the CDSPI Board of Directors since 2004, becoming the first non-dentist to serve in such a position. Mr. Best is also a member of the Board of Directors of Continovation Services Inc. (CSI), which offers the ITRANS suite of products to Canadian dentists. He is the founder, chair and chief executive officer of Quikcard, a group of companies that offers health plans, dental plans and medical benefits nationwide. His understanding of dentistry and organized dentistry and his ability to apply that knowledge to a business setting have greatly benefited the dental profession.
"I am honoured and thrilled to receive this prestigious award from an organization that has been a huge part of my life for more than 25 years," said Mr. Best. "The dental family has been an integral part of my career success and I can't imagine where I would be without the support and camaraderie of the dental profession."