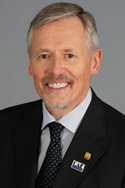 Dr. Douglas W. Conn was elected president of the Canadian Academy of Endodontics (CAE) at the CAE annual meeting held on October 18, 2012.
Dr. Conn is a 1982 DMD graduate of the University of British Columbia (UBC). In 1995, he received a Certificate of Advanced Graduate Study from the Boston University Goldman School of Dental Medicine.
Dr. Conn is a part-time clinical assistant professor with the faculty of dentistry at UBC and is a member and past president of both the British Columbia Society of Endodontists and the Dental Specialists Society of British Columbia. He practises endodontics in Vancouver.
For more on CAE activities, visit caendo.ca.