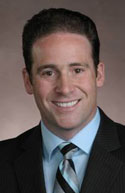 Dr. Kent Orlando was elected president of the New Brunswick Dental Society (NBDS) at the NBDS annual meeting held in June 2011. Dr. Orlando is a 1998 DDS graduate of Dalhousie University.
Dr. Orlando has previously chaired the CDA Committee on Student Affairs. He is also a past member of both the CDA dental benefits issues group and NBDS Third Party Committee, and he has served as the NBDS Board member from the Fredericton region.
Dr. Orlando maintains a practice in Woodstock, New Brunswick.