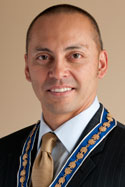 Dr. Harry Höediono was elected president of the Ontario Dental Association (ODA) for 2011-2012.
A 1990 graduate of the University of Toronto, Dr. Höediono is a fellow of the International College of Dentists, the Academy of Dentistry International, the Pierre Fauchard Academy and the American College of Dentists.
In addition to serving as president, Dr. Höediono continues to serve as ODA treasurer and to chair the Budget Oversight Committee, the Accommodation Task Force and the ODA/RCDSO Ideas Forum Committee. He also serves as a member of the Board of Directors and the Staffing, Administration and Finance Committee.
Dr. Höediono maintains a practice in Kitchener, Ontario.