Oral health is part of your overall health. With a healthy mouth, you can eat, speak and smile in comfort, which helps you feel physically, socially and mentally well. A healthy mouth helps you enjoy life. Follow these tips to maintain good oral and overall health!
Reduce consumption of sugary drinks and make water your drink of choice
Sugar is one of the main causes of dental problems. Sugary drinks are also major source of sugars in the diets of pre-teens and teens. As a result, consuming sugary drinks may lead to increased risk of cavities for children, and obesity and type 2 diabetes for the entire population.
Drinking water keeps you hydrated without the added sugars, calories, sodium, and saturated fats, and it helps your body to get rid of waste. Fluoridated drinking water also has added oral health benefits – protecting teeth against cavities.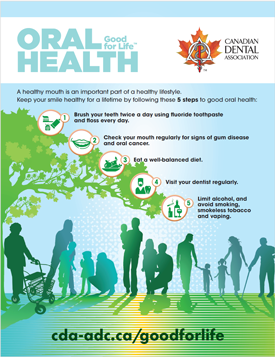 Five steps to improve your oral health
As part of a healthy lifestyle and to help reduce the risk of oral disease, follow CDA's five steps to good oral health. Download the poster.
Other helpful tips and resources
Parents, caregivers and teachers: Talk to your children about maintaining good oral health in a fun way by using CDA's teaching resources.
Know what's in your food: Read the Nutrition Facts table and the ingredient list on packaged foods. Check out CDA's sugar smart videos on muffins, yoghurt, ketchup and dried fruit.
Learn about living a healthy, well-balanced lifestyle:
Canada's Food Guide:
Heart and Stroke Foundation Canada:
Unlockfood.ca by Dietitians of Canada