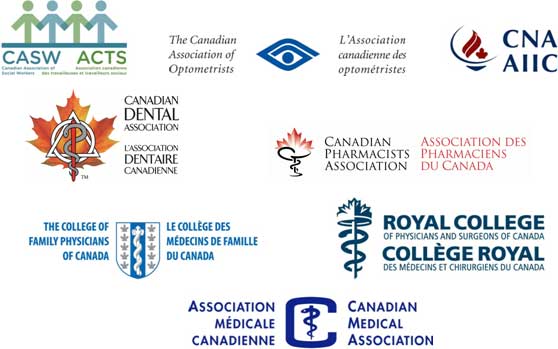 A group of eight national health organizations representing various health practitioners today sent a joint letter to the Minister of Citizenship and Immigration, the Hon. Jason Kenney, asking the Minister to rescind the planned cancellation of supplemental health benefits to refugee claimants under the Interim Federal Health Program. The cancellation of these health benefits is scheduled to occur June 30, 2012.
The letter points out that the planned cancellation of supplemental health care benefits will not save governments money; rather, it will add to public health expenditures. More importantly, the measure will put at risk the health of refugees, future new Canadians and all Canadians from a public health standpoint.
Signatories to the letter include the Canadian Association of Optometrists, Canadian Association of Social Workers, Canadian Dental Association, Canadian Medical Association, Canadian Nurses Association, Canadian Pharmacists Association, the College of Family Physicians of Canada, and the Royal College of Physicians and Surgeons of Canada.
A copy of the letter can be downloaded here.
-30-
For more information, please contact:
Jeff Morrison, director of government relations and public affairs
Canadian Pharmacists Association
613-523-7877, ext. 386
jmorrison@pharmacists.ca